With our mini-pageant over we can now usher in summer! Vote for who had the best spring style
Entry Name:
Lexleigh
By:
LucyKitsch
Base:
Brigh
by
Blood-Cocoa
.
About Your Entry:
Lexleigh is a tattoo artist that really loves the colour black. She really loves gold, too. And modifications... and tattoos, and changing her hair.
The first doll is the hobby doll. She is holding her tattoo machine. She doesn't really like to go outside much so that's her hobby year-round. The second doll is the lingerie doll. She's wearing bunny ears (and a pink tinted nose!) and the pink tattoos on her thigh are kisses from her friends that she got tattooed. (The other tattoo is a badly-done snake... she's getting that covered up soon LOL.) She's wearing a halter-top bustier and some high-rise booty shorts. The third doll is the tea party doll. She's got on a cute bustier and skirt with flats.
Entry Name:
Cassidy
By:
Alsie
Base:
Ritratto de Signora the site is gone, but you can find the bases at
BunnyStick
About Your Entry:
So this is Cassidy. She sells furniture pieces and decor that she changes and alters.
The first doll is her doing her favorite springtime (warm weather hobby). She goes out to the park and reads whenever she has time. The second doll is how she is going to keep her hot Navy Seal boyfriend home when he gets home for leave.
Oh and she is wearing a hat and bowtie. And finally Cassidy is wearing a sweet sundress to have tea and play in a pinochle tournament with her grandmother.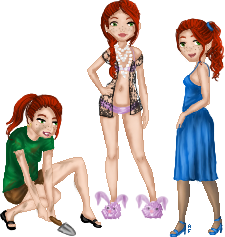 Entry Name:
Cayleen Shea
By:
PirateMaster
Base:
Base
About Your Entry:
Cayleen's an avid gardener and during winter months spends her time inside a greenhouse. Her sleepwear is a pastel number with cute bunny slippers, she finds them amusing and keeps her boyfriend laughing with her antics. Her last is what she would wear to a teaparty, after all she wants to make a good impression on her boyfriends family.[/quote]
Entry Name:
Gekijou Hitohana
By:
WassupKiba
Base:
base
About Your Entry:
Round`1 Hobby
Gekijou hates stale things and her home is no exception. Her spring time hobby is home improvement that usually involves several coats of brightly colored paint! She may go through 6 different colors before she finds the perfect hue to match her "spring spirit"!
Round`2 Lingerie
A gold kimono and panty set is comfortable and yet gareenteed to please. She adds a classy touch with strands of pearls, an innocent looking weighted Shillelagh, and matching gold pumps.
Round`3 Tea Party
For an event as special as the Glam! Tea Party, Gekijou chose a classic vintage style tea dress in soft green with a shimmering sash that makes her look as luscious as the garden they are drinking tea in!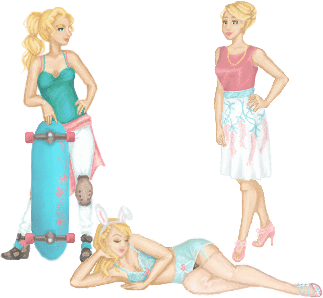 Entry Name:
Lily-Anna Montgomery
By:
batgirl
Base:
http://base-o-holic.deviantart.com/
About Your Entry:
round 1 - springtime means the snow is gone and it is time to ride. Long boarding is Lily-Anna's favourite hobby when it warm out.
round 2 - pastel lingerie with bunny ears makes this sexy ensemble perfect for Easter.
Round 3 - Going to the Tea party is style and grace with this classic yet fresh outfit.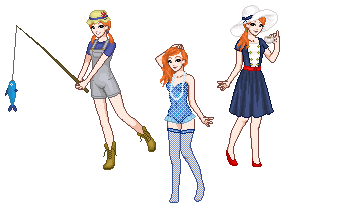 Entry Name:
Natalie
By:
Margarry
Base:
http://yzah.deviantart.com/art/Prep-Base12-194636695
About Your Entry:
I was inspired all the fish...
Hobby:
Fishing
Lingerie:
With long beaded necklace and pastel blue
Tea Party:
Nautical (
Inspiration
)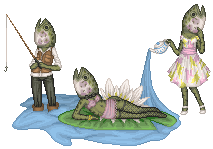 Entry Name:
Ayuka Vanderhorn
By:
CrazyLola
Base:
http://zipple.deviantart.com/
About Your Entry:
For the lingerie I used a flower and bow tie. Her hobby is fishing (which is hilariously ironic lol). Finally she is rocking a bright springy tea party dress, but she is not the best host because she is a little clumsy! This was inspired by the april fools day prank and I couldn't help myself XD
Entry Name:
Page
By:[b/] paperraine
Base: Ladybird by Zipple
About Your Entry:


Hobby:

Rocking out at Spring festivals.


Lingerie:

Pastel lingerie complete with floral leggings, bowtie and fedora.


Tea Party:

More florals! Inspired by a dress of my own.