[align=center]This month's winner is
PixelBug!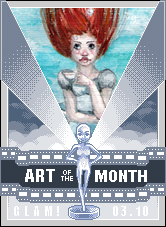 What inspired you to do this piece?
There was this little exhibition in our shool and there was a picture that had used
Elena Kalis'
underwater photography as a reference. I knew I had seen the photos but I also remembered her
"High Tea"
really well. I felt really inspired and sketched the thing down many times. I couldn't get it out of my head until I had done it in watercolours so that's why my picture was born.
Do you have a lot of experience with watercolors?
No, not really. I've been practicing watercolours very rarely, once in a few months or so, and I started about 2 years ago. I even bought myself new paints to push myself to work, but they stood on my table for two months before I used them. I'm glad I did though, they worked really well on this picture.
What was the most aggrivating part of this piece?
The skin. I painted it over many times, starting with green (I really thought it was going to be nice bluish tint, but nooo...). When I finally got it right I was really happy. Also, the salt - instead of sucking the paint in, it melted on the background. Great, just great.
What are your plans for her? Keeping it? Framing it? Selling it?
I wouldn't have the heart to sell it. It's my best watercolour painting yet and it wasn't a comission or a gift. I'd frame it, but I can't decide where to put it on my room so I guess I'll just put it in a folder and have a glance at it every once and a while. It's not like I'm hiding it, though. It's up everywhere I usually post my art on the Internet.
If you could go back and change one thing what would it be?
I was going to say the shoe because I messed it up, but I managed to fix it anyway. So the skin. I wouldn't paint it green at first, but stick to the original plan and use purple from the very start, because panicing and mixing all the wrong colours isn't much fun.
Thank you for the Oscar, I'm very honoured
.[/align]