[align=center]This month's winner is
Days!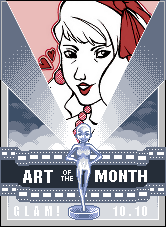 [/align]
I notice you made this for your mom's birthday, do you usually do art as gifts?
I always do because I often lack of money XD and even though I've earned enough money during holidays, I draw something because I think time you spend on a drawing is more important than time spent to buy some silly item.
It seems like you use a lot of mediums, which medium is your favorite?
I often draw stuff with pens on the sheets of paper that I use for my courses and then put colours on my computer. But I also like drawing traditionally XD In fact I wouldn't be ale to chose a favourite technique.
Now that you've finished this piece, how do you feel about it?
I'm quite satisfied because I didn't really have any idea when I started this x)
What did you have trouble with on this piece?
I had trouble with the drawn gift itself XD I didn't know how to make it and now it looks like an egg XD
What is your favorite thing to draw?
I love drawing faces and particularly eyes and lips :3