[align=center]This month's winner is
Stay.Beautiful
!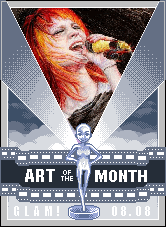 Tell us, what inspired you to make this?
Well, I draw when I have time or feel like it, neither of which have come very often recently. Early summer = a bit of time and wanting to draw. After a lot of searching for some nice reference pictures, I found this one by Andrew Kendall, and just managed to find the time to finish her. So not exactly inspiration, just the urge to draw, and the urge to draw someone new and pretty Smile (got to give credit to
http://www.andrewkendall.com/
for the original photo).
So, since Hayley is obviously a musician, are you? Or are you just a fan of her music?
Nah I'm not a musician. I just think Hayley and Paramore are awesome, they make music that makes me happy and her voice is amazing, especially as she's so young.
The perspective on this is really what makes it so interesting. What made you choose the angle? Was it hard to pull off her facial expression?
The original photo was at that angle, it never actually occurred to me to rotate it. Its nice and dynamic indeed, thanks Andrew! The face was actually pretty hard, open mouths and teeth are very difficult, they can easily slip into over-shading and looking dirty.
Everything has so much detail, How long did this take you to make?
Errrrm, not that long. I think overall 4 or 5 evenings, but they were VERY spread out, over like a month. Normally my drawings take about a week's worth of evenings.
Is there anything you wish you'd done differently? If not, have you learned any new things from it that you could use on future art?
Yeah the left side of her hair is the wrong brightness lol. From this I have learnt to go easy on the black, and remember to use darker shades of colours rather than black for shading, unless its absolutely necessary.
[/align]