Hello all!
I've been away for a loooong time, due to originally a computer deciding to go and die on me, followed by a long period of zero inspiration for anything artistic. But I've felt the urge to pixel tickling at the back of my brain, so I figured I'd see who was still in the community that I may remember! I'm amazed this site is still around, to be honest. After seeing so many pixel forums die within a couple years it's really awesome to see one withstanding the test of time!
I've been on pretty much all of the pixel forums from back in the day (The Underground, Corrupted Carousel, The Enchanted Forest, Eden Enchanted, etc etc) so there may be some people floating around that could have potentially seen me in the past.
Especially
if you were a regular of the RPG boards on UG or any of the others. That was my jam.
For the rest of you that have no idea who I am, here's some quick tidbits:
My name is Kiri, it is also my username. I went by many other silly screen names back in the day before just going back to my own name. I've been dolling for a
long
time. Like...back when everyone on the internet called them "dollz" kind of long time, before The UG even opened kind of long. I feel like a pixel geezer. As such, I'm a true pixel shader. I tried a few times to get into tooling, but I could never make it stick. Much respect to those of you who do!
As for some work, here's the last pixel doll I touched before my computer went caput and my muse jumped off a cliff. It was a WIP for a collab here on Glam, for Star Trek inspired dolls! Kind of want to finish this one, I'm super proud of the Klingon forehead edit.
-base-
Older works: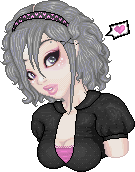 -base-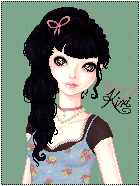 -base-

-base-
Here, have some super old ones for the lulz:




-base-






-base is by MahouBunnyBell, but her DA looks wiped?-
So fill me in, everybody! What's the scoop? Who's still around that's a veteran? Who are the new hot-shots in the pixel world? I've missed so much!
Also, please please PLEASE feel free to come at me if you're new and want advice or CC. I had a lot of help from some amazing dollers back in the day, and while I don't think I'm anywhere near their level, I would love to help motivate others.