My Chosen Base

REdoll ^
GloomyCherub's vv
Orig. Base
So, Im trying to stick with the general design. Changed a few things. The kite's bein her necklace atm; but Im still iffy about stuff.
Like her hair xP I love her dress and capris though; and shoes oddly enuff, so theyre staying.
Any CC or suggestions would be loved. Thanks!
UPDATE


I hate doing poofs. CC now is appreciated, mainly the kites, the waist bow, and her HAIR! WHY IS IT SO HARD NOW!?!? D'x
2nd LASt UPDATE IHOPE! D=


Better at all? I didn't want to re-do the poof, and I added a small neckkalce.CC again, please. Harsh -_-
And yehs, Im going to make the hair strand-ey-er right now.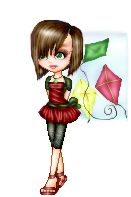 I FINISHED! ithink>.>


M actually proud of the poof n_n thanks everyone for the cc!

]