The original doll, made by Krahka:
base
My version:

--->

--->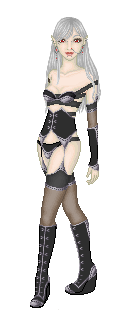 (commentary on the new one posted below ...)
Base by me
So, I spent forever looking for a base ... and I finally settled on making my own base (<---look familiar?). And what did i do, I made a huge base (atleast by my standards) ... So, it is mostly line art right now but I am still looking for c/c because I am still not so sure about the base.
I have made major chages, lol and if you are wondering I decided that the dangly things, while actually my style, had to go in favor of cleaner lines and patterns on the lingerie parts. I do plan on making the skin green and the face more like the original one.
C/C PLEASE ... I will update tomorrow as I get more done ... I will finish!!!