I'd really love to have a collab for the millions of OC's dancing around Glam residents' head and given that its nearing winter, I thought this might be an ideal sort of way to bring the OC's together. Basically, I just want you to join in with one, or as many as you like, OC's in winter garb, doing wintery things, generally just enjoying the things that come with winter. Both genders welcome, muses welcome, characters from nano etc... basically any character that you created!
The Q and A section of the show...
Q: When is the deadline?
A: At the moment its pretty open to suggestions, BUT I'm thinking in the new year, perhaps late january to early feb some time? I'm happy to extend this however.
Q: What constitutes as an OC?
A: Original characters from novels, general characters living in your heads, muses... any personages, human or otherwise, that you have created. Even a pixel version of you is essentially an OC. So join us!
Q: What base is this on?
A:
Therefore, the base we will be using for this is
Medley
!
There is no base pose claiming. Just pick the one you really think suits your character and go with it.
Q: Is there a limit on the amount of OC's to include?
A: Certainly not! HOWEVER, please be reasonable. If you have 20 OC's and want to do them all, but are a slow doller (Like me) then you've kinda gotta limit yourself to what you can actually do. I myself have over 10, but its unlikely all of them will be included. We'll see though. I may get them all in :p
Q: Did someone mention cookies?
A: I did, but I ate them
... I'll make more.
Q: What's our theme?
A: Winter! Specifically, snowtime fun (IE, snowball fight, building snowmen, drinking hot chocolate while freezing the extremities off....
Q: Are props allowed?
A: Heck yes!
Classified Ads
For those in need of assistance, here's an intro form
Code: Select all
[b]Name:[/b]
[b]Age:[/b]
[b]Likes:[/b]
[b]Dislikes:[/b]
[b]Favourite music:[/b]
[b]Favourite foods:[/b]
[b]Picture/picture link:[/b]
Aaand the classifieds themselves...
Classifieds
Spyder:
Cera, Darcey, Rosette, Val,
Devon, Mindy-Jo, Hemlock, Anika, Neesha, Syd
Glass Trees:
Sen, LaLa, Miss Zili
Kaitlyn:
Leilani Miakoda
Guitar Love:
Melody Yest, Anne Marie Lockheart, Nicole Wolfe/Cooper
Frizz Kitty:
Regina (Reggie) Dalton, Hosanna (Sana) Xiao, Lesley Adams
Momma2boog:
Asta
Vargas Child:
Nikolai Vladmirovich Sokolov
Aroura:
Danai, Pogue, Rory, Kitrah
Vanity Sweet:
Vanity Elenson, Gabriella Williams/ "Wrath", Evelynn / "Envy", Sophia Ärade Masters/ "Sloth"
BookHobbit:
Kyoraka, Asphyxia, Hanukkah Cray, Dai Spindler, Camelot Hepper, Hades, Yun Hee Nan, Kain Muller, Fallon, Aishe Petulengro
Shannon:
Miu, Aideen, Nitya Channary
Myth freak:
Adri, Mahira
Hashepsut:
Caliga, Agilac
Total OC's so far: 47 and counting!
Completed!
- Asta (Momma2Boog)
Leilani (Kaitlyn)
Sen, Miss Zili, Lala (Glass Trees)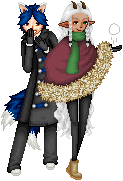 - Pogue , Danai, Rory, Kitrah (Aroura)

Mahira (Myth freak)
Completed so far = 10!