When I say 'traced base' I don't mean one of those anime thingies that are all over DeviantArt; I mean we'll be using a photo of a real person to make a base.
Like this:
[align=center]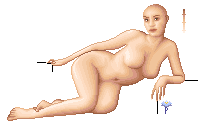 Source:
Linked out due to NIPPLES
[/align]
* This will be a pixel tutorial
* All paint programs welcome, but something that allows layers and resizing is preferred.
* BEWBIES ABOUND! If you have a problem with artistic nudity
(why are you drawing on pictures of naked women, you perv!?)
this workshop isn't for you.
* All reference photos much be stock, or you must have special permission from the original artist. No exceptions!
** No applications needed. First come, first serve.
** I'd like to do new steps once a week. I can try to update sooner if trainees feel this is too slow.
Post here or PM me to be added to the list. I'll start the workshop on the 15th, regardless of whether this gets filled up or not.
1) Andrea
2) Spitfire
3) VooDooCocaine
4) Ditzy DM
5) Yiri
6) Allpixeledout