[align=center]
[/align]
Dolls from top to bottom reading right.
Row One:
Asha done by Asha, Hollay by Hollay, Chrissy made by Chrissy, PhoeC made by Marly
Row Two:
ohmystarsx3 by ohmystarsx3, Shixam by Shixam, Marly by Marly
Row Three:
MouldyCat by MouldayCat, Alya by Alya, Tiger by Tiger, Lim by Lim, Mascot by PhoeC, Beagley by Beagley, Mandy by Mandy, Pyro by Marly
Row Four:
Aerieyena by Aerieyena. Kit19 by kit19, Dragyn by Dragyn, Miyavi is love X3 by Miyavi is love X3, Jade by Jade
So all of currently in Dollchat have come up with the idea to do a collab of Dollchat! Now this will NOT be open for a while and in fact will close in 5 days.
Now 1 and 4 are taken and cannot be claimed by more than one person. However 6 is open and can also be taken by only one person All the others are welcome to everyone including pose edits! There will be no extensions. I apologize if you don't get it done.
Oh and you must have wings!
Lightsource is top right
*# is the number available to use
Sign ups:
1. PhoeC-Closed *0
2. Alya, Miyavi is Love X3-OPEN*Unlimited
3.Marleaux-Aeri, Jade, Shixam, kit19, Mouldycat-OPEN *Unlimited
4.Hollay-Closed *0
5. Ohmystarsx3, Mandy, Zumi, Asha, Tiger-OPEN*Unlimited
6.Dragyn-Closed *0
BUT THATS NOT ALL
You must also include a one sentence description OF Dollchat.
Marly-****Dollchat is a place to socialize and goof around and if you have time, get help with dolling
Hollay-

- Dollchat is a clusterf*ck of girls raving about their boobies, their monthly cycle, and sometimes.. we talk about pixel art.
Alya-
DDC is an amazing land on dA which is kind of like what Syd Barrett would see if he did way more acid and browsed internet porn for a few hours.
Miyavi is love X3-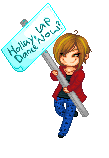 Doll chat is a place is a place of watching,creating,and provoking drama.
Shixam-
Dollchat is where I go everyday to meet MAH BEST FWIENDS!
Dragyn-
Dollchat is great way to meet other dollers, get help, relax, talk about stuff you normally wouldn't, laugh your ass off, and really feel like you're part of something without getting lost in the vastness of forum obscurity that often accidentally happens.
OhmystarsX3-
Doll chat is the best place to rave about anything and everything for no apparent reason =q
Mandy-
Doll chat is one of the best places to go and goof off, have fun and maybe even get help to improve on your dolls!
Asha-
Dollchat gives me a new place to procrastinate from the real world. Yay. =)
Jade-
DollChat is a place for all members of the dolling community to get to know each other, help each other out, talk about crazy stuff and have a good time.
Chrissy-
DollChat is the most annoying, amazing, hilarious, weird, critiqueful, creepy, wonderful, happy place on earth. It's also a place for feeling like a n00b. :iconhurrplz:
Beagley-
Dollchat is a place to run around naked and piss people off using plz accounts.
Tiger-
Dollchat is God.
Lim-
Dollchat is great place to mingle, ask for cc, chat, and to have silly conversations. Don't forget the usual swearing!
Aeri-
Dollchat. It's made of tits.
MouldyCat-
DollChat has all types of boobs. Chuck Norris would be satisfied.
kit19-
Dollchat is a good place to barter for cake.
I think that's it