This contest is for the Harry Potter fans that read the books, fell in love or just enjoyed a character and then completely disappointed when Warner Bros. didn't include the character in the movies.
There are several examples of these characters, such as; Winky the house elf, Archie in his flowered night dress, Ludo Bagman, Rudolphus Lestrange, etc.

Marietta Edgecombe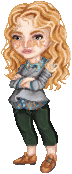 base by
Duckie
Contest theme:
Doll a character from the Harry Potter series that was NOT portrayed in the movies.
Preferably this character has a name, but it can also be one that has a definitive story such as the Beauxbatons boy that danced with Parvati Patil at the Yule Ball and later met up with her at Hogsmeade.
Rules:
The character must not be portrayed in the movies
Doll(s) must be made for this contest
No frankendolling or -basing
No extensive nudity or gore (we'll save that for another contest shall we?)
You can enter as many times as you want with as many dolls as you want in one image but please, take you time and try to make the doll(s) to the best of your ability
No size limit (but I don't really like sprites, and if it does stretch the forum boards, thumbnail it)
Resources:
Harry Potter series - can be found as an audiobook, ebook, paperback, hardcover at any library, book store, second hand book store or garage sale around the world
Harry Potter Lexicon -
http://www.hp-lexicon.org/index/master-index-intro.html
Harry Potter Wiki -
http://harrypotter.wikia.com/wiki/Main_Page
Mugglenet -
http://www.mugglenet.com/
Pottermore -
https://www.pottermore.com/en-us
Me - you can ask here or PM me if there are any questions or clarifications needed
Ending Date - May 1, 2014
Since there are so many fascinating pageants going on, this has a very long due date